Here are the "Artists United to win Without war Associates" This List comes from their website! Boycott their work.
| | | | | |
| --- | --- | --- | --- | --- |
| Gillian Anderson | | Rene Auberjonois | | Edward Asner |
| Jackson Browne | | David Bale | | Kim Basinger |
| Ed Begley, Jr. | | Theo Bikel | | Barbara Bosson |
| Peter Beck (REM) | | Kathleen Chalfant | | Diahann Carroll |
| Jill Clayburgh | | David Clennon | | Jack Coleman |
| Peter Coyote | | Lindsay Crouse | | Don Cheadle |
| Matt Damon | | Dana Daurey | | Suzanne Cryer |
| Vincent D'Onofrio | | David Duchovny | | Olympia Dukakis |
| Charles S. Dutton | | Hector Elizondo | | Cary Elwes |
| Shelley Fabaras | | Mike Farrell | | Mia Farrow |
| Laurence Fishburne | | Sean Patrick Flanery | | Bonnie Franklin |
| John Fugelsang | | Janeane Garofalo | | Larry Gelbart |
| Melissa Gilbert | | Danny Glover | | Elliott Gould |
| Samaria Graham | | Robert Greenwald | | Robert Guillaume |
| Paul Haggis | | Robert David Hall | | Ethan Hawke |
| Ron Howard | | Helen Hunt | | Anjelica Huston |
| LaTanya Richardson Jackson | | Samuel L. Jackson | | Jane Kaczmarek |
| Melina Kanakaredes | | Casey Kasem | | Mimi Kennedy |
| Jessica Lange | | Tea Leoni | | Wendie Malick |
| Camryn Manheim | | Marsha Mason | | Richard Masur |
| Dave Mathews | | Kent McCord | | Robert Duncan |
| McNeill | | Mike Mills (REM) | | Janel Moloney |
| Esai Morales | | Ed O'Neill | | Chris Noth |
| Peter Onorati | | Alexandra Paul | | Seth Peterson |
| Tony Shalhoub | | CCH Pounder | | David Rabe |
| Alan Rachins | | Bonnie Raitt | | Carl Reiner |
| Tim Robbins | | Mitch Ryan | | William Schallert |
| Susan Sarandon | | Loretta Swit | | Susan Sullivan |
| Martin Sheen | | Armin Shimerman | | Gloria Steinem |
| Marcia Strassman | | Michael Stipe (REM) | | Studs Terkel |
| Lily Tomlin | | Blair Underwood | | Dennis Weaver |
| Bradley Whitford | | James Whitmore | | James Whitmore, Jr. |
| Alfre Woodard | | Noah Wyle | | Peter Yarrow |
| Howard Zinn | | | | |
| Ambassador Jonathan Dean (U.S. Rep. to NATO­Warsaw Pact) | | Jack Shanahan Vice, Adm. U.S. Navy (Ret.) | | Ambassador Edward Peck (former U.S. Ambassador to Iraq) |
| Eugene J. Carron, Jr., Rear Adm. U.S. Navy (Ret.) | | Steve Robinson, Sgt. U.S. Army (Ret.) (National Gulf War Resource Center) | | |
Eerie Silence in Hollywood as Anti-War Stars Vanish

Sun Apr 27,10:07 AM ET Add Entertainment - Reuters to My Yahoo!

By Dan Whitcomb LOS ANGELES (Reuters) - Where has the Hollywood anti-war lobby gone?

In the weeks leading up to war in Iraq (news - web sites) actors Martin Sheen (news), Mike Farrell (news), Sean Penn (news) and Janeane Garofalo (news) joined a cast of thousands in a fierce Hollywood resistance played out in protest marches and from the sofas of television talk shows.

But with the war in its waning hours, all is quiet on the western coast -- leading conservatives to suggest that Garofalo and her fellow travelers are in full retreat from a public backlash and feeling chastened by a swift American victory.

Liberals fear Hollywood's left-wing stars are being muzzled and their careers placed in jeopardy from what actor Tim Robbins (news), called in a recent speech a "climate of fear."

But Mike Farrell, star of television's "MASH" and organizer of "Artists United to Win Without War," told Reuters that those who joined the loyal opposition in Hollywood had not been silenced and certainly were not backing down.

Instead, he said, the "huge coalition" of those opposed to the war were gathering strength and preparing to fight another day -- over post-war Iraq, domestic issues and future "preemptive strikes" by the Bush administration.

"What's the point of me saying anything right now, while they're in the end zone doing the dance and spiking the football?" Farrell said. "They are going to do the thing they are going to do, but we'll be heard from when it's appropriate and in the manner that is appropriate."

GAROFALO SOLDIERS

Garofalo, working hard on her upcoming ABC sitcom, did not respond to interview requests for this story. But she told the Washington Post last week that her anti-war stance had been a "positive" experience that had helped her career.

"Before this I was a moderately well-known character actress," she told the paper. "Now, I'm almost famous."

A spokeswoman for Penn, who infuriated many Americans by visiting Iraq in December on his own fact-finding mission, said the actor was not granting interviews. Sheen's publicist said the man who plays president on "The West Wing (news - web sites)" was "not talking to anybody right now."

Farrell lamented the backlash to celebrities who spoke out -- notably in the case of the Dixie Chicks (news - web sites), who saw radio stations yank their music off the air and fans smash their CDs after Texas-born lead singer Natalie Maines (news) told a London audience she was "ashamed" that Bush hailed from her state.

Maines has since apologized and the band said during a tearful ABC-TV interview that they feared for their lives after getting death threats. But Farrell said the backlash came from a small number of Americans galvanized by the Bush administration and conservative radio talk show hosts.

"There was a well-orchestrated campaign to do that through hate radio and Web sites and voices that sprang from the (Bush) administration and said 'take your choice, you're with us or with the terrorists,"' he said.

"But the Dixie Chicks are back on the air and their record is number one again," he said. "Tim Robbins and Susan Sarandon (news) are not going to stop making movies for a long time. Janeane Garofalo has a (TV) pilot going forward. These ugly-mouthed people like to think they are more powerful than they are."

STILL OPPOSED

Farrell said that the ability of U.S. troops to topple Saddam Hussein (news - web sites)'s regime in relatively short order has not softened his opposition to the war.

"An illegal war is an illegal war no matter what the result. We'll never know now what could have been achieved through peaceful means."

Prof. Howard Suber, founding director of UCLA's film and television producer's program, said the eerie silence from Hollywood was to be expected once American troops were on the ground in Iraq.

"It's one thing to oppose the war and it's another thing entirely to appear that you are supporting the enemy," Suber said. "That's the trap Jane Fonda (news) fell into when she went to North Vietnam (during the Vietnam War) and was a labeled traitor. I know of no public figure who supported Saddam, so once the troops are in the field you've got to shut up."

But, he added: "To suggest they've been muzzled I think is bull. They've just got nothing to say. Once the deed is done there's nothing to say until the next time."

Allan Mayer, a top Hollywood crisis public relations manager, said a few performers not used to dabbling in politics had been given a wake-up call by the blistering public response to their remarks.

"Clearly Natalie Maines didn't have an inkling of the kind of reaction she was going to provoke," Mayer said, adding, "There's a level of vitriol in the air that I haven't seen since the Vietnam War."

Vermont Gov. Dean proves he is Clueless!

Dean said, "Not really. I don't think anybody could reasonably suspect we weren't going to win. The problem now is how to govern, and that's where the real rubber is underneath the road.

"The hardest part is still ahead of us, and I think the events that we were watching on CNN showed that. The Shi'a in the south would like in some cases fundamentalist religious state or province, that would be much worse than Saddam Hussein in terms of a threat to the United States it would allow al Qaeda to move in.

"We seen chaos in Baghdad with the proclamation of somebody claims he's the mayor. And this is going to go on and on. So we've really got to now build a Democratic society."

Asked if the Iraqi people are better off now than they were under Saddam, Dean said, "We don't know that yet. We don't know that yet, Wolf. We still have a country whose city is mostly without electricity. We have tumultuous occasions in the south where there is no clear governance. We have a major city without clear governance."




Gingrich Blasts State Department
By Sarah Wagner
Talon News
April 23, 2003

WASHINGTON (Talon News) -- Former Speaker of the House Newt Gingrich criticized the State Department on Tuesday for its apparent diplomatic failure leading up to the war in Iraq.

Gingrich made his comments to the American Enterprise Institute in Washington. He asserted that the State Department failed to put enough pressure on Iraq to disarm and comply with U.N. sanctions.

"The last seven months have included six months of diplomatic failure and one month of military success," Gingrich said.

According to Gingrich, it's necessary that the State Department implement "bold and dramatic" changes, similar to those seen at the Pentagon, in order to prevent another diplomatic disaster. Gingrich also blasted the State Department for considering sending Secretary of State Colin Powell to Syria, calling such possibilities "ludicrous."

The White House was quick to defend Powell, saying that he had done an "excellent job" representing the Administration and its policies. White House Press Secretary Ari Fleischer applauded Powell's "superb efforts" and indicated that Powell's actions were a direct reflection of the President's views.

An official from the State Department echoed the same sentiment, stating, "If [Gingrich] has a problem with Powell, he has a problem with George Bush."

State Department spokesman Richard Boucher also defended his embattled institution, saying, "The State Department is here to carry out the President's policy. In every one of these instances being cited, we are doing that effectively. We are doing that loyally, we are doing that diligently, and we're doing that with a fair amount of creativity and accomplishment."

Gingrich's statements have suggested a serious and growing rift, perhaps even rivalry, between the Defense and State Departments. However, relations between the heads of both are said to be civil.

Officials said that the two departments have differed on which department should represent the United States in talks with North Korea, and also on the role of Iraqi exile leader Ahmed Chalabi.

Copyright © 2003 Talon News -- All rights reserved.

KERRY MISSES MASS. SOLDIER'S FUNERAL FOR FUNDRAISERS

So why wasn't U.S. Sen. John F. Kerry [D-MA] at last week's funeral of Matthew Boule, 22, the Dracut, Massachusetts native who was the state's first soldier to die in the Iraq war?

Kerry, a decorated Vietnam War veteran who is seeking the Democratic presidential nomination, was in Arizona on Tuesday -- fundraising and campaigning -- the very hour Boule was being buried, the DRUDGE REPORT can reveal.

Kerry's office did not respond to a request for comment.

Boule was a crew chief on a Black Hawk helicopter with the Army's 3rd Infantry Division. He died while fighting in Iraq on April 2. Massachusetts Governor Mitt Romney, a republican, attended his funeral.

Kerry missed the service honoring Boule to speak to the Arizona Democratic Caucus, where he proposed a "Veterans Prescription Drug Reform Act."

Life is for the living, as Kerry outlined a plan that could reduce the backlog of veterans waiting to see doctors.


Robbins Says First Amendment Suffering

The Associated Press

Wednesday, April 16, 2003; 6:52 AM

WASHINGTON - One casualty of the war with Iraq is the First Amendment right to oppose it, actor Tim Robbins says.

Robbins and longtime companion actress Susan Sarandon are war opponents whose scheduled appearance at baseball's Hall of Fame was canceled last week by former Reagan administration aide Dale Petroskey, now the hall's president.

"A chill wind is blowing in this nation," Robbins told a National Press Club luncheon Tuesday. "Every day the airwaves are filled with warnings, veiled and unveiled threats, spewed invective and hatred directed at any voice of dissent."

Robbins, 44, said he didn't regret supporting the 2000 presidential campaign of consumer activist Ralph Nader, who has been blamed for taking enough votes away from Al Gore to enable George W. Bush to win the White House. He said he hadn't decided whom to support in 2004.

Petroskey sent a letter to Robbins and Sarandon, telling them the 15th-anniversary celebration of "Bull Durham" set for April 26-27 at Cooperstown, N.Y., had been called off. Robbins and Sarandon co-starred in the 1988 baseball film.

© 2003 The Associated Press

Filmmaker Moore Criticizes Bush Again


The Associated Press

Tuesday, April 15, 2003; 4:32 PM

AUSTIN, Texas - Filmmaker Michael Moore, who slammed President Bush and the U.S.-led war in Iraq during his Oscar acceptance speech, continued his criticism before a university crowd in Bush's home state.

The documentary maker said Monday night that the president's approval ratings are high because the American people rally around their leader after a tragedy, and Bush "is the one occupying the federal land at 1600 Pennsylvania Avenue."

But Moore said the United States is at war with Iraq because of the former Texas governor's need to keep the public's eye off his domestic failures as president.

"It's not about the weapons of mass destruction; it's about the weapons of mass distraction," he told 4,400 students and guests at the University of Texas.

Pulling his Oscar from a bag, Moore passed the gold statue around the audience, joking, "What are the chances I'm going to get that thing back?"

Moore won his first Oscar last month for "Bowling for Columbine," an examination of gun violence in America. He received a standing ovation when he won and a mixture of cheers and boos with his fiery criticism of President Bush - a speech he said he hadn't prepared.

Moore told the Austin American-Statesman before his lecture that 90 percent of the response he's gotten has been positive and that, despite having investigated the roots of violence in his most recent documentary, he hasn't received any threats.

"Should I be getting death threats?" he said, jokingly. "It is pretty risky of me to be coming to Texas, don't you think?"

Pelosi stands by vote against Iraq war

By Stephen Dinan and Amy Fagan
THE WASHINGTON TIMES

Democrats and Republicans on Capitol Hill are rallying around military successes in Iraq and supporting the troops, but House Minority Leader Nancy Pelosi said it was still right to oppose granting the president the authority to use force to disarm Iraqi dictator Saddam Hussein.


"I have absolutely no regret about my vote on this war," she told reporters at her weekly briefing yesterday, saying the same questions still remain: "The cost in human lives. The cost to our budget, probably $100 billion. We could have probably brought down that statue for a lot less. The cost to our economy. But the most important question at this time, now that we're toward the end of it, is what is the cost to the war on terrorism?"
She and a majority of House Democrats last October voted against authorizing the president to use force to disarm Saddam's regime. In the Senate, a majority of Democrats voted for the war resolution. The measure passed both chambers comfortably, with almost every Republican supporting it.
But Mrs. Pelosi, California Democrat, has said she worries the Iraq campaign would divert attention from the broader war on terror and could spawn new terrorist attacks.
On the Senate side, Minority Leader Tom Daschle, South Dakota Democrat, praised U.S. troops and declined to second-guess the Bush administration on a series of questions, including whether Iraqi opposition figure Ahmad Chalabi should be the country's next interim leader. He is being promoted for the position by some in the administration.
"I want to vet it a little bit more before I come to any conclusions," Mr. Daschle said.
The ongoing war continues to dominate much of the action on Capitol Hill.
A handful of protesters disrupted a Senate vote last night when they stood in the visitors' gallery, held up red flags and chanted antiwar slogans like "No money for war" and "Our taxes are not for bombing nations."
The five were grabbed and pushed one by one out by guards, but not before they brought the entire chamber, which was full of senators and staffers for the vote, to its feet.
Meanwhile, House Republicans and Democrats held a rally to support the troops yesterday, and leaders of both parties praised the military's efficiency and professionalism.
"Today in Iraq, tens of millions are free," said House Majority Leader Tom DeLay. "This is a regime that needed change."
Mr. DeLay, Texas Republican, said the war is not over yet, "but make no mistake ... our army of virtue is beating back the tide of terror."
Mrs. Pelosi also praised the troops at the rally. But she didn't address the war itself at the event. Later, in her news conference, she told reporters she is not convinced the war in Iraq has made Americans safer.
"That remains to be seen," she said. "I certainly would hope so, and I think we have to think in a very positive way about it, but we don't know."
That put her at odds with House Minority Whip Steny H. Hoyer, Maryland Democrat, who said to some U.S. troops present at the rally: "Your cause is noble and just. You are disarming a dangerous despot and ending his ruthless regime."
He also said he believed the war was "strengthening the security of our nation, as well as the nations of the Middle East and the nations of the world."
As Mrs. Pelosi praised the troops, she also said their success was owed "in large measure" to former President Bill Clinton.
"This best-trained, best-equipped, best-led force for peace in the history of the world was not invented in the last two years. This had a strong influence and strong support during the Clinton years," she said.
Mrs. Pelosi did give President Bush credit for saying the United Nations should have a role in rebuilding a postwar Iraq, but she said the administration must make sure that it involves the international community.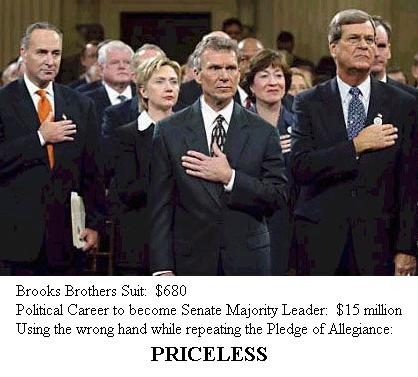 Democrats Hold Anti-War Rally in Moscow
By Jeff Gannon
GOPUSA News
April 1, 2003
(GOPA News) -- The Moscow Times on Monday featured an article about an anti-war rally in the Russian capital. The Saturday afternoon demonstration by 6,000 people, mostly Communists, included a handful of Americans. The newspaper reported that a group called Democrats Abroad organized the event.
On its website, Democrats Abroad (www.democratsabroad.org) calls itself "The official Democratic Party organization for some six million American citizens who live outside the United States." Their stated mission is: "We work to support the aims and principles of the Democratic Party. We are recognized as a "state" committee by the Democratic National Committee and are represented on the DNC by eight members."
The Moscow Times described the demonstration as "a mass of red flags and 'Yankee Go Home' badge-wearing demonstrators." Included in that "mass" was a small group of Americans who also oppose their government's war in Iraq.
The newspaper quotes Mark Sleboda, 28, a student at the Moscow State Institute of International Relations, or MGIMO, and a former N.C.O. officer in the U.S. Navy. "What we are doing is unlawful. We support our troops, but the only way to support them is to bring them home alive," Sleboda said.
The Times quotes Tanya Abrams, an international relations student on a U.S. government fellowship to MGIMO, as saying of U.S. President George W. Bush, "He's ignoring the will of the people. He can't convince anyone in the world except for Britain. I'm embarrassed to be an American."
Charlie Rangel (D-NY)
Remarks by Rep. Charlie Rangel (D-NY) against our servicemen and women in Iraq. Why are this idiots sedicious comments being ignored!
Rangel said "I just don't believe that you bomb women and children in order to enforce [the U.N. resolution on Iraq]," the Harlem leftist said on Fox News Channel's "Hannity & Colmes" Thursday night.
When challenged on his claim that U.S. forces were killing Iraqi children, Rangel said sarcastically: "You're right. They're shooting themselves. They just don't know they're being liberated."
This guy should join be sensured, playing politics when our guys are in harms way is just wrong.
Democrat Calls for End to War in Speech

Democratic presidential candidate Dennis Kucinich took his anti-war campaign to the House floor Tuesday, calling for an end to the fighting in Iraq to allow weapons inspectors to return.
Kucinich, a congressman from Ohio, repeated the phrase, "Stop this war now," 10 times in his brief speech. He said the U.S.-led military campaign was built on "falsehood."
"This war has been advanced on lie upon lie," he said. "Iraq was not responsible for 9/11. Iraq was not responsible for any role al-Qaida may have had in 9/11. Iraq was not responsible for the anthrax attacks on this country."
"Rescue this nation from a war that is wrong, that is unjust, that is immoral," Kucinich said.
Senator Dashle decided to use our soldiers for Political Fodder!
Senate Minority Leader Tom Daschle, who earlier in the day had lashed out at President Bush, saying he had "failed so miserably" at diplomacy in the crisis with Iraq that the United States now stands on the brink of war, issued a statement after Bush's televised address assuring the president of congressional unity.
3/31/03, 7 a.m. ET) -- The
Dixie Chicks
controversy continues with the trio getting some support from former Vice President
Al Gore
. Gore spoke to a college audience last week on the subject of fewer companies owning more media outlets, and what he sees as the increasing lack of tolerance for opposing views.
According to the Tennessean, Gore used recent attacks on the Dixie Chicks that followed anti-war comments by Natalie Maines as an example. Gore told the audience, "They were made to feel un-American and risked economic retaliation because of what was said. Our democracy has taken a hit," Gore said. "Our best protection is free and open debate."
Record sales have fallen for the Chicks and radio stations across the country banned the trio's music after Maines told a London concert crowd that she was "ashamed the President of the United States is from Texas." Maines later released an apology.
-- Nancy Brooks, Nashville





Hurah for The United Way!

ST. PETERSBURG, Fla. - Actress Susan Sarandon said she was disturbed by a charity's decision to cancel her appearance at a fund-raising event because of complaints about her anti-war views.

The United Way of Tampa Bay was to feature the 56-year-old actress as keynote speaker at an April 11 women's leadership event designed to inspire volunteerism in the community.

But organizers this week scrapped the $75-a-plate event after the charity got three dozen complaints about Sarandon's selection.

Robin Carson, chairwoman of the board of directors, said the event had the potential to become "divisive."

"The focus of our whole meeting had shifted to whether or not we were creating a political platform for Susan Sarandon," Carson said.

In a statement Friday, Sarandon said that "considering the depletion of federal funds for community programs and the faltering economy, it is disturbing to me that the United Way is letting partisanship determine its support base.

"Once again, the shortsightedness of the powerful will end up hurting those in need."

Others disagreed with the decision, too.

Marty Petty, executive vice president of Times Publishing Co., which publishes the St. Petersburg Times, resigned as a member of the United Way board of directors and chair of the 2003 campaign.

"This decision is grounded in my lifelong personal and professional belief that our civic life is made stronger by the expression of all views, including ones that are controversial," Petty wrote in a letter to Carson.

Sarandon's brother, Terry Tomalin, outdoors writer at the St. Petersburg Times, had asked Sarandon to participate six months ago.

Sarandon, who introduced the obituary segment of Sunday's Academy Awards show, flashed a peace symbol with her fingers while walking on stage at the Kodak Theatre in Hollywood, Calif.
ROBIN WILLIAMS BLASTS BUSH
Funnyman Robin Williams has launched a scathing attack on President George W. Bush and his decision to go ahead with war on Iraq.

The "One Hour Photo" actor also criticizes what he sees as his country's mixed messages when it comes to national security.

He says, "America is broke, basically, but Bush wants to wage a war that costs pretty much a billion dollars a month.

"We have a president for whom English is a second language. He's like 'We have to get rid of dictators,' but he's pretty much one himself.

"In America, we have orange alert, but what the hell does that mean? We're supposed to be afraid of Krishna? Of orange sorbet? Then it's like, 'You can't go out and shop, it's too dangerous out there,' but if that happens then the economy falls.

"The message is so mixed: 'Be afraid, but not too afraid.'"

XXXXX DRUDGE REPORT XXXXX FRI MARCH 28, 2003 20:52:37 ET XXXXX

MADONNA VIDEO ENDS WITH IMAGE OF PRESIDENT BUSH WITH GRENADE IN HIS LAP

A final shock scene in the video of AOLTIMEWARNER recording artist Madonna's upcoming release -- is that of the singer throwing a grenade in the lap of President Bush!

MORE

"It is not me being anti-Bush, it's me being ironic and tongue in cheek," Madonna explains to NBC's ACCESS HOLLYWOOD this weekend.

"My kind of wish for peace and my desire to sort of turn a weapon of destruction, which is a grenade, into something that is completely innocuous."

Madonna uses a Bush look-alike in the final scene of AMERICAN LIFE. The "president" picks up the lit grenade that Madonna throws -- and lights his cigar with it!

The image is "my wish to find an alternative to violence to war and destruction," the singer says.



Sheen Leads Anti-War Prayer Vigil in L.A.


The Associated Press

Thursday, March 27, 2003; 1:34 PM

Martin Sheen covered his mouth with a piece of duct tape that said "peace," then led about 60 protesters in a prayer vigil.

The star of the NBC series "The West Wing" carried a huge painted cross during Wednesday's protest. He didn't speak, but the Rev. Michael Kennedy of Delores Mission Catholic Church in East Los Angeles read a statement from him.

"Nationalism and militarism have become the gods of our idolatry at the expense of our humanity," Sheen wrote. "By some demented form of logic the men, women and children of Iraq are relegated to 'collateral damage' as the dogs of war slouch toward Baghdad."

The vigil was held to pray for the safe return of U.S. soldiers and to express solidarity with two Catholic priests and one peace activist who have been fasting on a liquid diet since March 5, organizers said.

© 2003 The Associated Press





These People Deserve to be shunned!
04/01/2003

Kucinich Takes to The House Floor
To Call For An End to The War:

Congressman Dennis J. Kucinich (D-OH), who leads opposition to the War in Iraq within the House, issued the following statement on the House floor:

"Stop the war now. As Baghdad will be encircled, this is the time to get the UN back in to inspect Baghdad and the rest of Iraq for biological and chemical weapons. Our troops should not have to be the ones who will find out, in combat, whether Iraq has such weapons. Why put our troops at greater risk? We could get the United Nations inspectors back in.

"Stop the war now. Before we send our troops into house-to-house combat in Baghdad, a city of five million people. Before we ask our troops to take up the burden of shooting innocent civilians in the fog of war.

"Stop the war now. This war has been advanced on lie upon lie. Iraq was not responsible for 9/11. Iraq was not responsible for any role al-Qaeda may have had in 9/11. Iraq was not responsible for the anthrax attacks on this country. Iraq did not tried to acquire nuclear weapons technology from Niger. This war is built on falsehood.

"Stop the war now. We are not defending America in Iraq. Iraq did not attack this nation. Iraq has no ability to attack this nation. Each innocent civilian casualty represents a threat to America for years to come and will end up making our nation less safe. The seventy-five billion dollar supplemental needs to be challenged because each dime we spend on this war makes America less safe. Only international cooperation will help us meet the challenge of terrorism. After 9/11 all Americans remember we had the support and the sympathy of the world. Every nation was ready to be of assistance to the United States in meeting the challenge of terrorism. And yet, with this war, we have squandered the sympathy of the world. We have brought upon this nation the anger of the world. We need the cooperation of the world, to find the terrorists before they come to our shores.

"Stop this war now. Seventy-five billion dollars more for war. Three-quarters of a trillion dollars for tax cuts, but no money for veterans ' benefits. Money for war. No money for health care in America, but money for war. No money for social security, but money for war. We have money to blow up bridges over the Tigris and the Euphrates, but no money to build bridges in our own cities. We have money to ruin the health of the Iraqi children, but no money to repair the health of our own children and our educational programs.

"Stop this war now. It is wrong. It is illegal. It is unjust and it will come to no good for this country.

"Stop this war now. Show our wisdom and our humanity, to be able to stop it, to bring back the United Nations into the process. Rescue this moment. Rescue this nation from a war that is wrong, that is unjust, that is immoral.

"Stop this war now".

---

04/01/2003



Concert-goers head to exits after anti-Bush display

By Mark Brown, Rocky Mountain News
April 3, 2003

Incensed fans walked out of Pearl Jam's concert Tuesday after lead singer Eddie Vedder impaled a mask of President Bush on a microphone stand, then slammed it to the stage.

Most of Vedder's antiwar remarks earlier in the Pepsi Center show were greeted with mixed cheers and scattered boos. But dozens of angry fans walked out during the encore because of the macabre display with the Bush mask, which he wore for the song Bushleaguer, a Bush- taunting song from the band's latest album, Riot Act.

"When he was sharing his political views in a fairly benign manner - supporting our troops, opposing policy - that's OK," said Keith Zimmerman, of Denver.

"When he takes what looks like the head of George Bush on a stick, then throws it to the stage and stomps on it, that's just unacceptable. I love Pearl Jam, but that was just way over the edge. We literally got up and left."

Others joined Zimmerman, some complaining about the lyrics of Bushleaguer, which in part call Bush "a confidence man" and say, "He's not a leader / he's a Texas leaguer."

"I wasn't sure if it was really happening," said Kim Mueller. "We looked at each other and realized he really did have George Bush's head on a stick and was waving it in the air, then slam-med it to the ground and step-ped on it."

"It was like he decapitated someone in a primal ritual and stuck their head on a stick," Zimmerman said. "It kinda blows away the Dixie Chicks."

The Dixie Chicks were the target of boycotts and bannings after making an anti-Bush statement on a London stage in March. (On Wednesday, the Marshall Tucker Band announced it would play a May 1 concert in Spartanburg, S.C., as an alternative to the U.S. tour-opening show in nearby Greenville by the Dixie Chicks that same day.)

Vedder has used the Bush mask in previous shows in Australia and Japan, but Denver's U.S. tour opener was the first show since war broke out in Iraq.

Pearl Jam manager Kelly Curtis couldn't be reached for comment. The Seattle band plays Oklahoma City tonight.

Before Do the Evolution, Vedder told the crowd the tale of a Vietnam vet who expressed severe reservations about war in Iraq to Vedder. The singer was incensed when someone in the crowd yelled, "Shut up!"

"Did someone just say, 'Shut up'? I don't know if you heard about this thing called freedom of speech, man. It's worth thinking about it, because it's going away," Vedder said. "In the last year of being able to use it, we're sure as (expletive) going to use it and I'm not gonna apologize."

Later in the show, he added to that.

"Just to clarify . . . we support the troops," Vedder said to cheers. "Our problem is certainly not with anybody over there doing something that not too many of us would do right now, not for these reasons.

"So to the families and those people who know those folks and are related to those folks and are married to those folks, we send our support. We're just confused on how wanting to bring them back safely all of a sudden becomes nonsupport. We love them, we support them. They're not the ones who make the foreign policy. . . . Let's hope for the best and speak our opinions."

It was after that when Vedder put on the Bush mask and a sparkling silver jacket. He took off the mask, mounted it on the mike stand, then slammed it to the floor.

Kerry still playing Politics with the War 4/2/03

Detic presidential hopeful John Kerry said Wednesday that President Bush so alienated allies prior to the U.S.-led war against Iraq that only a new president can rebuild damaged U.S.-international relationships.

"Because of the depth of this breach, because of the anger that exists with many countries and their leaders ... I don't think they're going to trust this president no matter what," the Massachusetts senator told a Peterborough, New Hampshire audience.

Kerry backed a congressional resolution last fall giving Bush the authority to use force to oust Iraqi President Saddam Hussein, but the lawmaker repeatedly has criticized the president for failing to give diplomacy more time.

If elected president, Kerry said he would heal relations with other countries by approaching the United Nations with a plan to make the United States a leader on international, environmental and health care issues without ceding its right to defend itself.

"I believe we can have a golden age of American diplomacy," he said.

Kerry spoke briefly and answered questions from New Hampshire voters who packed the basement of the town library to hear his views on education, the economy and other issues. Many of the questions focused on the war.
FIELDSBORO NJ -- Diane Johnson found out the hard way that yellow ribbons make Mayor Edward "Buddy" Tyler see red.
The borough mayor supports the councils unanimous vote to outlaw any ribbons or other memorials for the American troops fightingin Iraq, if those ribbons are placed on public property because the government doesnt want them there.
"Im shocked and outraged," Johnson said. "I cant believe the mayor would force me to take down ribbons put there in honor of American troops, fighting for our freedom in Iraq."
Johnson and her husband David own Hegyis Liquor Store, the second prominent landmark on the way into tiny Fieldsboro from Route 130, with a population of 1,222. The first landmark is a huge sign directly in front of the liquor store that says "Entering the Boro of Fieldsboro, Incorporated 1865."
It was on the painted sign and on a fledgling tree that Johnson hung yellow ribbons "about the size of a dinner plate," she said. "They were made of all-weather ribbon, and they looked really nice. They didnt obstruct the sign in any way, and a lot of people with family members in the war came into the store to tell me how seeing the ribbons gave them a lift."
But yesterday, several days after the ribbons were hung, Johnson got the word from the mayor via a township maintenance man: "Take down the ribbons, or Ill do it for you."
"I didnt want to get fined, so I took them down," Johnson said, visibly upset. "There are mothers in town who have sons over there. You think hed be a little bit sensitive to them."
It wasnt just the mayors edict: Four of the boroughs six council members took a vote on the matter. Tyler said that the council members, present at a budget meeting last week, voted unanimously to make Johnson take down the ribbons, or have the town do it if she refused.
"Yes, its true," said Tyler, who said he had received a complaint about the ribbons.
The mayor said he initially didnt think the yellow ribbon controversy was "a big deal," but after some thought, he said he agreed with compelling Johnson to remove the ribbon memorial.
"Where would you draw a line if you started allowing the use of public property to exhibit whatever cause anyone wanted?" Tyler said. "Suppose someone wants to tie pink ribbons, or black flags, or a Confederate flag or a Nazi flag on public property?"
The issue, Tyler said, had nothing to do with support for the troops in Iraq. "We certainly recommend that people should exhibit their support," he said. "Just do it on your own property, not on borough property."
A decorated Vietnam veteran, Stan Stimpson, who has lived in Fieldsboro for 50 years, just shook his head.
"Its unbelievable the mayor would do something like this. I have an American flag on my property, and I have a ribbon from Diane that I put on the top of the flagpole," Stimpson said. "Citizens should support our troops. They are fighting for us.
"I hope thats one lesson we learned from Vietnam."
Things were different in the borough after the Sept. 11, 2001 terrorist attacks, David Johnson said.
"The whole town went flag-crazy then," he said. "My wife put red, white and blue flags out then."
But not on the towns welcome sign.
Tyler emphasized how important the rule of law with the Iraq situation, and said he didnt support the American attack against Saddam Hussein.
"We should have had the support of the United Nations. Im not waving flags either way," he said. "I dont support this war."
Tyler, a Democrat, has been a colorful, controversial mayor for four non-consecutive terms.
Partisan politics, though, had nothing to do with the governing bodys decision to get rid of the ribbons, Tyler insisted, although he noted that the Johnsons "are Republicans."
All six members of the borough council are solidly Democrat.
"The whole thing absolutely gets me in my gut," Diane Johnson said. "I still cant believe the mayor would be against this, and that the council would actually vote to get rid of the ribbons.
"As far as I know, were not a Gestapo police state," she said, "but theyre sure acting like it."


HOLLYWOOD (AFP) - Famed US documentary maker Michael Moore used his win of an Oscar to launch a violent attack on US President George W. Bush and war in Iraq amid loud boos from the audience.
"We live in fictitious times," he said when picking up the award for best documentary for his anti-gun film "Bowling for Columbine."
"We live in a time with fictitious election results that elect fictitious presidents. We live in a time when we have a man sending us to war for fictitious reasons.
"We are against this war Mr Bush. Shame on you. Shame on you!," he said to loud boos from an audience of 3,500 including most of Hollywood's top stars.
When he went backstage at Hollywood's Kodak Theatre to face reporters, Moore was unapologetic for his outburst.
"I'm an American, and you don't leave your citizenship when you enter the doors of the Kodak Theater. What's great about this country is that you can speak your mind," he said.
He said that, far from being appalled, many people in the audience stood up to applaud him.
"I say tonight I put America in a good light," he said praising the decision to push ahead with the Oscars despite the war raging in the Middle East.
"I showed how vital it is to have free speech in our country and all Americans have the right to stand up for what they believe in," he said.
MONTPELIER, Vt. A group of Vermont teen-agers threw rocks at a uniformed female Vermont National Guard sergeant last week, in the latest example of a service member facing hostility in the United States.
National Guard spokesman Capt. Jeff Roosevelt said the woman was not injured in Friday's incident, which took place in Plainfield, but said the woman had decided she would no longer wear her uniform outside of work.
"We are a very tolerant state and people in the military also expect to be treated with the same courtesy and respect that we show to others," Lt. Col. Scott Stirewalt, director of security at the Vermont National Guard, told WCAX news.
The teens blocked the sergeant as she went into a store and again on the way out, yelling obscenities at her along the way, Roosevelt said. The group also threw small stones at her car as she drove away, he added.
The sergeant said she believed the protesters had taken part in an anti-war demonstration in Montpelier that day. National Guard troops are often deployed to such events to help keep the peace.
"There were various profanities directed in her direction, along the line of '[expletive] murderer, [expletive] baby killer,'" Stirewalt said. "It culminated with some of the individuals throwing rocks at her, and as testament to her disciplined professionalism, she got in her car and left the area."
Roosevelt called it an "isolated incident."
"For every one that takes place there are hundreds of good deeds being done for Guard members," he said.
Roosevelt said other guard members were told in an e-mail to be careful in public. "It was kind of a heads-up to stay alert. We send warnings like that out all the time."
U.S. Sen. Patrick Leahy, D-Vt., chastised the stone throwers, calling the incident "disturbing."
"The process leading to the war in Iraq has generated strong feelings across the nation," said Leahy, co-chairman of the Senate National Guard Caucus. "I know that the great majority of Vermonters would never participate in this type of disrespectful behavior because it is not the Vermont way.
"It is important, especially now, for Vermonters of good will on both sides to show that the Vermont way is to respect one another, regardless of our views about the war."
Leahy noted that the state's National Guard helped thousands of residents there during a huge ice storm in 1998 and in the period following the Sept. 11 terrorist attacks. They also played key roles in both World Wars, the Korean War and Operation Desert Storm.
After news of the Sept. 11 attacks, Vermont's 158th Fighter Wing of the Guard scrambled many of their F-16 fighter jets. Over the next 122 days, at least two of the units patrolled the skies over Washington, D.C. and New York City.
But Friday's incident isn't the only case of a Guard facing harassment in the Green Mountain State.
"A car drove up alongside and honked his horn and stuck his hand out the window and gave us the old proverbial, 'hey, you're No. 1 finger,'" Guardsman Brian Tomblee told WCAX news, referring to an obscene gesture. "I just waved back and said, 'Hey thanks for the support,' and drove on."
Protesters at Friday's anti-war demonstration converged at the statehouse in Montpelier to lobby the governor and the legislature. Just as the anti-war rally started, they were met with more than 30 Republican lawmakers lined up on the upper statehouse steps to sing "God Bless America."
Former Gov. Howard Dean -- who left his post to make a run for the Democratic ticket for president in 2004, regularly and loudly criticizes the Bush administration war effort. He has also criticized fellow Democratic candidates for backing the war.
Under Vermont law, assaulting or abusing a soldier because of membership in the military is a hate crime. Conviction could bring up to five years in prison.
About 15 Vermont Air National Guard security personnel will soon be sent overseas to help fight the war on terror, officials said, and could be deployed in Afghanistan and Iraq. The deployment will bring the number of Vermonters currently deployed to about 200.
The state's volunteer Guard now has about 4,000 members between the Army and Air National Guard. With a population of just 600,000, that figure represents one of the highest Guard per capita participation rates in the country.